MOW's  クリーミーミルク

!! It's yummy, milky, vanilla-y, & SUPER ADDICTIVE!!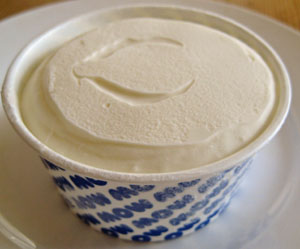 I'm not telling where local ppl can get it cuz it's quite limited! Hahaha... Had one last week and I just had another just now *blk*

Worthy of replacing my YogurBerry but then this ice-cream has more calories than my YogurBerry =(

There is only one more left in the freezer at the shop I bought my yummy treat from!! Hahaha... hopefully it will still be there as I plan to surprise my friend with one of this during her birthday this Wednesday!! She too is addicted to it thanks to ME!!

よしのや!!本当にありがとうございます! 愛してる!
 *winks*
~~Cherrios~~

P/s: I just had a wonderful time in the jungle! Spent 10 days away from civillisation (no h/p, internet, or TV) for my research! Had soooo much fun!!